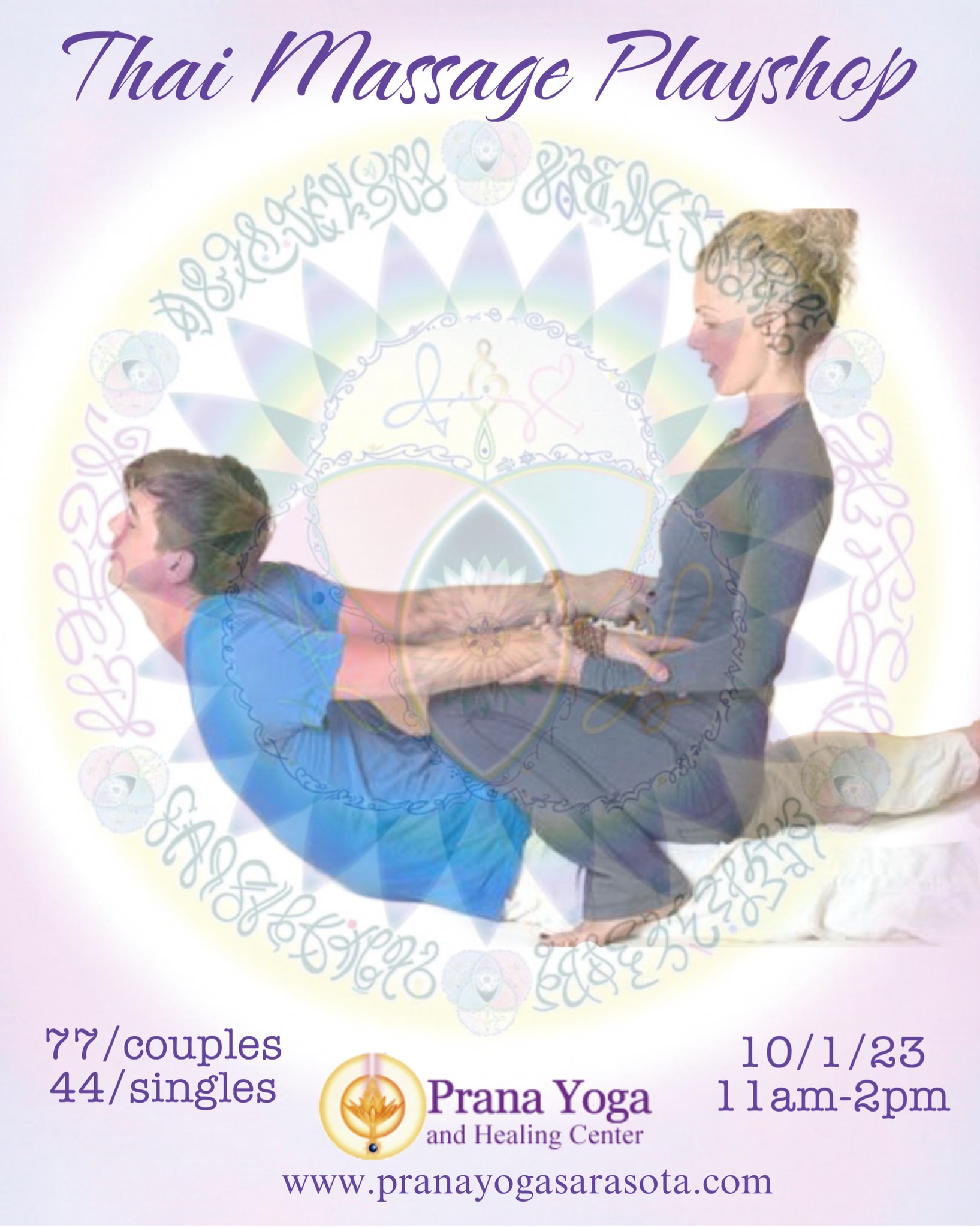 Thai Massage Play Shop & Gong Bath: Sunday October 1st, 11:00am to 2:00pm
Thai Massage Play Shop & Gong Bath.
w/Bhavani Hope & Regina
October 1st
11am-2pm
$77 couples
$44 singles
Come stretch, massage and play while learning a simple easy to learn sequence from the most ancient and original form of bodywork, as taught by the founder of Thai Yoga Massage.
No previous Yoga or Massage Experience needed, just a playful attitude.
Singles will be paired up, or grab a partner.
In this fun, relaxing and playshop you will learn the fundamental techniques of giving a Thai Massage including how to to clear and energize the major 10 energy lines, Palm pressing, thumb pressing, as well as a simple assisted stretching routine. You will have the tools and experience to give a basic thai massage to friends or family.
Trainer: Bhavani Hope
Short Bio:
Bhavani has been training in Yoga and Healing and Ascension Mechanics for 26 years. She is a humble student of the following masters:
Yoga with Ashtanga creator Sri K. Pattabhi Jois,
Qi-Gong with Master Luke Chen,
Thai Yoga Massage with Pom Wong,
Kundalini Yoga with Ramdeep Kaur and Ravi Singh,
Kathara Healing with Ashayana Dean and PJ Black,
Shamanism with the Iroquois/Mohawk.
Assateague Tribe, Shamanism with Erez,
Reiki with Sri Harshad Sadashiv and
Maha Yoga with Shankaracharya.
She is a devotee at the Sadhana Ashram with presiding Guru Sri Shankaracharya.
Mata Amritanandamayi know as Amma 
https://www.amma.org
and her beloved first guru is her Mother and OSHO. 
www.Bhavanihope.com