Kundalini Training Level 2 Mind and Meditation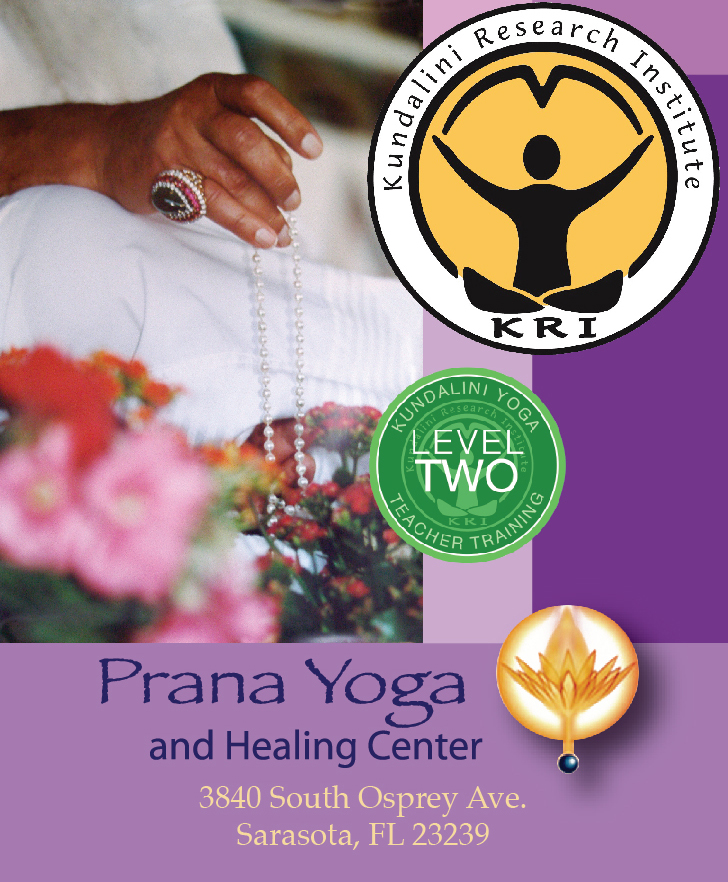 Program Description
In this 50 hour course, cultivate the core skill for this coming age – the ability to recognize stress in ourselves and others and develop the tools to transform it and balance it with conscious relaxation. Kundalini Yoga prepares each of us to be teachers who act with undaunted spirit, exalted caliber and character, and the vitality to cross every crisis. This course is a chance to look closely at how we react to, cope with and master our vitality.
Course Curriculum
Key Topics:
 Explore Your Vitality and Recognize Consciousness as the Core of Vitality

Identify Your Stress

Heal Cold Depression and Emotional Fatigue

Relieve, Relax, Recharge

Realize the Victory of the Spiritual Warrior
Limited seating at Prana Yoga and Healing Center for in Studio group
gathering. Or online zoom from home.
November 21st & 22nd
December 5th & 6th
January 9th & 10th
9am to 5pm (noon-1:30pm Lunch)
$895
Contact: Regina Dewitt (Jagjoti) at: 941-928-2137
Course Summary
Conquer your mind and conquer the world.
Deepen your practice of meditation through the Kundalini teachings, clarify the relationship between you and your mind, and explore the basic nature and dynamics of the mind. Our relationship to our own mind is pivotal in effectively realizing our true nature and fulfilling our potential. The greatest power is the ability to act with a Neutral Mind, to use intuition along with applied intelligence and to lean on the Infinite through the sacred science known as prayer.
Key Topics
Enhance the depth of your understanding of meditation and experience deep meditations on the nine aspects of the mind.
Focus on your relationship to your own mind.
Increase your ability to observe neutrally, to become still, to clear your mind of distractions and intrigues, to recognize when you establish a state of shuniya, and to recognize the different functional parts of your mind.
Experience and practice the use of intuition as a primary skill of Kundalini Yoga and Meditation.
Learn the structure of the mind and examine the impersonal minds, the qualities of the mind, and the nine aspects of the mind.
Understand how to use the 27 projections of the mind.
Registration Pricing
Early Registration Pricing
Registration Pricing
$ 995
Students must pay in full at time of registration.
Option 3
$ 1035
Register for 3 auto payments in the amount of $ 345 each
Course Dates 2020/2021
November 21 – 22
December 5 – 6
January 9 – 10
February 22
Teacher Training Team
HARI KAUR KHALSA
Master Kundalini Instructor
Hari is a world renowned master teacher of Kundalini Yoga and Meditation. For ten years, Hari worked alongside Yogi Bhajan, Master of Kundalini Yoga, directing his teacher training programs. Hari is part of the first wave of yoga teachers that pioneered the teaching of Kundalini yoga and meditation in the west.
Hari directs and teaches Kundalini classes and Teacher Trainings worldwide. Hari pioneered teaching Kundalini Yoga in high schools and was the director and developer of Kundalini Yoga wellness programs at Newton-Wellesley Hospital in the Greater Boston Area from 1987-2004, when she moved to NYC with her husband Dave.
Having written "A Woman's Book of Meditation: Discovering the Power of a Peaceful Mind" (Penguin 2006) and co-authored "A Woman's Book of Yoga: Embracing Our Natural Life Cycles" (Penguin 2002), Hari is also an accomplished author. Hari designed The Illumined Woman courses based on her studies of Kundalini, Qi Gong, and Kabbalah.
Inspired by her studies and the teachings of Kundalini Yoga and Anandamayi Ma, Hari founded The Illumined Woman™ courses, instructing and empowering women at all stages of life.
Awards: Hari received many service awards for teaching and assisting in organizing the teachings of Kundalini Yoga to make them accessible worldwide, She was the first woman teacher trainers that integrated the powerful teachings of Kundalini to serve all.
Yoga Journal Award. Hari was chosen as the only Kundalini Yoga and Meditation Teacher to join the Top Ten Influencers of Yoga in the West.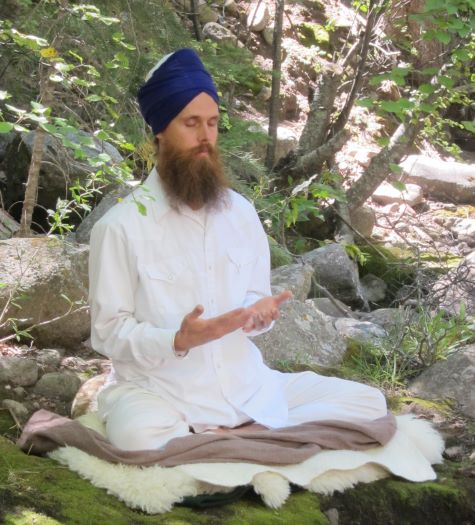 KHUSHBIR SINGH
Kundalini Instructor
Khushbir teaches Kundalini Yoga in the United States and world wide. He lives in Salt Lake City Utah, and teaches regular classes there. Khushbir was born in Athens Greece, and moved to the United States at age 3. He has been teaching kundalini yoga for over 25 years. Khushbir's specialties include breathing techniques, postural alignment, yogic philosophy, meditation, and mantra. Khushbir loves to barefoot waterski, cook, and travel widely visiting friends and practicing yoga where ever he goes. He is a Professional Land Surveyor, and also does remodeling. Khushbir is a Lead Trainer in the Kundalini Research Institute's Aquarian Teacher Training Academy, he is Level 3 Certified as well as having KRI's 500 hour Teacher Certification. He has a Bachelor's degree in Philosophy with a focus on the nature of consciousness. With a good background in posture, yogic lifestyle, as well as meditation, Khushbir takes yoga to the next level.